Genuine Mopar Brake Lights
Mopar Brake Lights: Ensuring Safety and Functionality
Brake lights are an essential safety feature of any vehicle, including those from Chrysler, Dodge, RAM, and Jeep. These lights play a crucial role in communicating your intentions to other drivers on the road.
How Brake Lights Work
When you press the brake pedal, an electrical signal is sent to the brake lights. This illuminates the bulbs, alerting drivers behind you that you are slowing down or stopping. The synchronized action of the brake lights and the brake pedal ensures a clear and immediate signal to those following your vehicle.
The Safety Benefits of Functional Brake Lights
Healthy and functional brake lights are paramount for road safety. They provide a clear indication to other drivers, allowing them to react promptly and adjust their driving accordingly. In low visibility conditions or heavy traffic, properly functioning brake lights can help prevent rear-end collisions and contribute to smoother traffic flow.
Why Drivers Should Stick with Genuine OEM Mopar Brake Light Replacements
When it comes to replacing brake lights and bulbs, it's crucial to choose genuine OEM Mopar parts. These parts are designed to meet the manufacturer's specifications much like brake pads and brake rotors, ensuring optimal fit, performance, and durability. By using OEM replacements, you can maintain the safety and reliability of your vehicle's brake light system.
Save on Genuine Mopar Brake Lights
At our online store, you can enjoy substantial savings while ensuring your vehicle's safety. Drivers can save up to 35% off the Manufacturer's Suggested Retail Price (MSRP) when shopping for genuine Mopar brake lights. We make it easy for our customers to maintain the integrity of their vehicle's lighting system without breaking the bank.
Convenient Nationwide Mopar Parts Delivery
We understand the importance of timely replacements, especially for safety-related components. That's why we offer nationwide auto parts delivery right to your preferred address. Whether you need brake lights for your Chrysler, Dodge, RAM, or Jeep, our fast and convenient delivery ensures you receive the necessary parts without delay. If you find yourself requiring assistance, feel free to reach out on our contact page for assistance.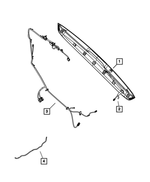 No results found for brake lights. Here are some helpful search tips:

Search by a part name. Example: water pump.
Be less specific. Example: brake instead of ceramic brake.
Remove information such as make, year or model.
Can't find the part you are looking for? Contact us and we'll find it for you!